LONSBERRY: Tear Gas Hype Is Fake News
Complaints about the tear gas are bull crap.
The progressives on social media call it a war crime; the progressives on the evening news call it an outrage.
And Joe and Betty America call it no big deal.
It was last week, when the first wave of caravaners arrived at the American border south of San Diego and tried to storm across.
They had a word for that in history class. It was "invade."
After a couple thousand miles of being warned by the Mexican government to go home, and a couple thousand miles of being coaxed by the American media to come on, they tried to seal the deal.
They tried to take what is not theirs to have.
And when the rocks and bottles started flying, and hundreds of illegal aliens tried to break into the country, the Border Patrol popped off a handful of tear gas canisters.
And the Pulitzer for political photography goes to whoever it was who got the lady with the half-dressed kids running away with a canister of smoke in the background.
Since then, it's been hand wringing coast to coast as Democrat politicians in office and in the press have raged about this crime against humanity.
Even though Barack Obama had the Border Patrol do the same thing over and over and over again.
And why did he do that?
Because it was the right thing to do.
And why didn't the activists in office and in the anchor seats say anything?
Because it was the right thing to do.
And why are they pissing their pants now?
Because they hate Trump.
It's not the "what," it's the "who."
Because the "what" is absolutely nothing of significance or import.
People tried to break the law – in a most fundamental way – and a commonly used means of crowd control was deployed. Deployed, in fact, in a fashion that was far below what can be done with tear gas.
If you look at pictures of the attempt to rush the border, you never see more than three active canisters of gas at a time. Further, you see them deployed directly in front of the Border Patrol officers – not fired into the gathered crowd of invaders. It was not an offensive use of gas, it was a defensive use of gas. This is the border, if you try to cross it, you get a snootful of gas. If you don't, you're fine.
Further, tear gas released from canisters is a low-level usage. In many uses – across the world – tear gas is deployed with massive fogging systems mounted atop armored vehicles.
In this situation, you had a small number of Border Patrol officers deploy a small number of tear gas canisters against a large number of dynamically advancing individuals.
And it worked.
The invaders turned back. None of them report any injuries. Some who committed acts of violence or persistent effort to breach the border were taken into custody.
And for those who thought to bring their diaper-wearing 6-year-olds to their illegal clash with armed defenders of an international frontier, thankfully the American Border Patrol cares more about their children than they do.
Also, they might want to put some pants on their kids.
Also, the progressives on social media and the evening news might want to cut the crocodile tears.
Because Joe and Betty America either have been through a tear gas chamber themselves, or had a relative who told them about it, and know it's not the end of the world. They also know, looking at the pictures of the running kids, that – absent flowing tears, saliva and snot – they had thankfully not been taken by their parent into the gas.
Further, Joe and Betty believe in the law. And whatever you think about what immigration law should be, you've got to agree that who comes across the border when ought to be decided by the countries who share that border.
That's what Barack Obama thought.
That's what both parties used to believe.
And that's what Joe and Betty still believe.
The weeping and wailing over the tear gas at the border is fake news – not that it didn't happen, but that its significance and context are being dishonesty recounted. The upset among the performance artists on the evening news and in the Democratic Party is a partisan lie.
A lie being told to weaken both a president and a nation.
And I don't care what you think about Trump, but if you won't stand up for America, then you're on the fighting side of me.
And that, pretty much, is what the overwhelming majority of Americans feel.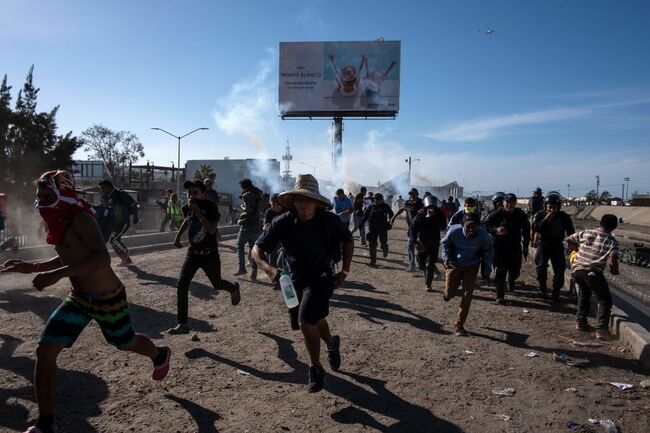 MEXICO-HONDURAS-US-MIGRATIONCentral American migrants -mostly Hondurans- run along the Tijuana River near the El Chaparral border crossing in Tijuana, Baja California State, Mexico, near US-Mexico border, after the US border patrol threw tear gas from the distance to disperse them after an alleged verbal dispute, on November 25, 2018. - US officials closed the San Ysidro crossing point in southern California on Sunday after hundreds of migrants, part of the 'caravan' condemned by President Donald Trump, tried to breach a fence from Tijuana, authorities announced. (Photo by GUILLERMO ARIAS / AFP)

Bob Lonsberry
Want to know more about Bob Lonsberry? Get their official bio, social pages & articles on 570 WSYR!
Read more